Introducing Australia's very own Industrial 5G Modem Router
Featuring 3G/4G/4GX/5G Support, Bridge Mode, Band Locking, VPN Capability, and 4G Fallback Function
For future-proof, ultra high speed and industrial use
Engineered for high performance, right here in Brisbane, Australia
Experience everything you've come to appreciate about the X1 Pro, now supercharged with the speed of 5G.
Professional Features Include
Carrier Unlocked: Use it on any mobile network that allows third-party devices.
Band Locking: Lock on to the best LTE bands in your area.
Bridge Mode: Pass the mobile network IP address settings to an attached device.
Seamless Integration: Easily connect with industrial firewalls, routers, camera systems, and more.
Remote Management: Monitor and manage your X1 Pro 5G using the Cloud Management System
Antenna Compatible: Works with external antennas for MIMO 5G/4G and MIMO WiFi.
Inclusive Accessories: Comes with DIN Rail Brackets.
Support for Optional Accessories: Use with alternative power supplies and more – contact us for more info!
Easy Installation: With its small footprint and energy-smart design, you can set up the X1 Pro 5G wherever it's most convenient for you.
Detailed Examples of How You Can Use Our Devices
Home Office or Small Business Branch
Whether you're working from your beach house on the Gold Coast or running a business from the Barossa Valley, the powerful WiFi signal of our X1 Pro 5G can cover your space and handle multiple users.
The X1 Pro 5G is our most powerful device yet, designed to give you a reliable and ultra-high-speed internet connection that's even better than our standard X1 Pro. It's great for places where NBN is unavailable or not up to scratch. The WiFi signal is powerful enough to cover a home or small office space of up to 275 square meters indoors and can handle up to 150 users. The X1 Pro 5G also supports several VPN technologies, letting you access office resources like file shares, remote desktops, and printers. Plus, the Cloud Management System gives IT administrators the ability to monitor and manage X1 Pro 5G devices from wherever they are, ensuring top-notch security, performance, and speedy deployment.
Business Use
Keep your customers happy and your business running smoothly with our 5G router's ultra-low latency and high-speed connection, perfect for cafes in Melbourne, boutiques in Bondi, or B&Bs in Byron Bay.
For businesses that rely on internet connections to process payments, provide guest entertainment, and keep the back office running smoothly, downtime is a big no-no. You need a router like the X1 Pro 5G that offers a secure connection with super low latency and high speed. It's perfect as your main internet source where DSL, cable or NBN connections are slow or unavailable, or as a backup to landline services.
Fast WiFi On The Move
Turn your ute, caravan, or boat into a mobile hotspot with our 5G modem router.
Whether you've got a car, caravan, boat, semi-truck, or even an emergency service vehicle, the X1 Pro 5G is just what you need. Our expert electricians can hook it up to your vehicle's power source, be it the cigarette lighter, inverter, or ignition loop. With the X1 Pro 5G, you'll have fast WiFi that everyone on board can use. It's like your very own portable hotspot!
Remote Work Sites
Whether you're mining in Kalgoorlie or farming in Tamworth, the X1 Pro 5G router guarantees reliable internet service where conventional routers don't reach.
Maintaining a connected and secure environment is vital for a happy and efficient workforce. The X1 Pro 5G helps achieve this by extending reliable internet service to areas beyond the reach of most other routers, ensuring seamless operation of safety systems such as remote surveillance cameras. This makes it a cost-effective and trustworthy solution for remote and rural locations with poor 3G or 4G signal, providing the necessary connectivity to maintain safety and productivity.
Real Performance Comparisons
We're not about spinning yarns. A lot of other brands like to highlight the top speeds their devices can theoretically reach. While there's a bit of truth to that, we think it's more honest and helpful to show you what our device can do in everyday conditions. Here's a look at how our device performs in the real world.
X1 Pro 5G
Good signal on a tower with enough capacity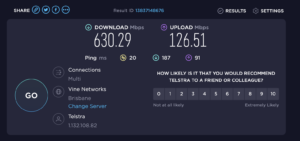 Typical result with good (all green) signal on a tower with enough capacity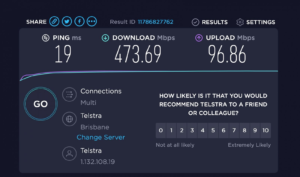 X1 Pro 
Compare that with the X1 Pro. Typical result with good (all green) signal on a tower with enough capacity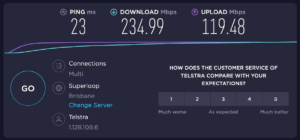 T1
Compare that with the T1. Typical result with good (all green) signal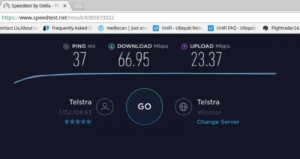 Just a heads-up
The modem's performance can change based on the quality of your signal and other variables, like the data plan of your SIM and how busy the network is. Even though our modem is pretty powerful, it can't work miracles with an extremely poor signal. You can check the strength of your signal on your device (head to the Mobile Status page) for personalised advice on how to boost it. We recommend getting a Site Survey if you have any questions about picking a modem. This way, we can pinpoint any signal issues at your location and recommend solutions that are guaranteed to work.